---
journal "NEW GLASS"


"NEW GLASS" is published quarterly, and written in Japanese.

---
Current Issue
---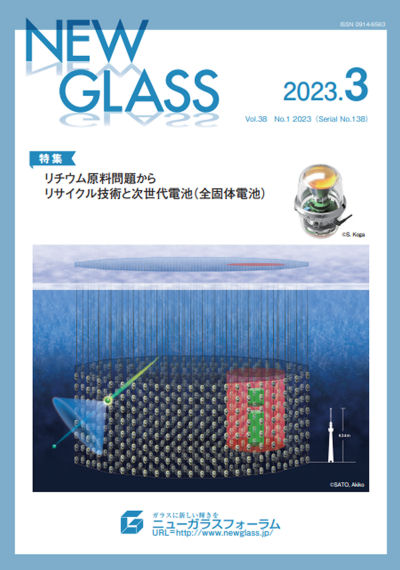 NEW GLASS

Vol.38 No.1 2023
(Serial No.138)
---

Foreword
Glass formation of non-oxides and Zachariasen's rules ------- p.1
Kohei Kadon
---

Feature Articles: Recycling technology and next-generation battery (total solids battery) from the issue of lithium raw materials
1) Global Lithium Supply-Demand and Price Trends ------- p.3
Mari Nishiumi
2) Ultra-pure Lithium Extraction Technology from Used LIB by Li Separation Method by Ionic Conductor: LiSMIC ------- p.6
Tsuyoshi Hoshino
3) A new separation technique of rare metals using chelating resin for resource recovery from waste lithium batteries ------- p.12
Jiro Kondo etc.
Hiromichi Aono
4) Lithium Recovery from Various Brines ------- p.15
Kazuharu Yoshizuka
5) Development of sodium-ion conducting sulfide electrolytes for all-solid-state batteries ------- p.22
Akitoshi Hayashi etc.
6) Development of All-Solid-State Na-Ion Batteries ------- p.25
Hideo Yamauchi
---

New Glass Research Topics
1) Report on the 63rd Symposium on Glasses and Photonic Materials ------- p.30
Nobuaki Terakado
---

New Glass Graduate School Lecture
Relation between compositions and properties of glasses;How compositions of commercialized glasses were fixed ------- p.35
Yukihito Nagashima etc.
---

Topics of Meeting on Glass
1) Report on the 63rd Symposium on Glasses and Photonic Materials ------- p.40
Nobuaki Terakado
2) Report on the 18th Glass Technology Symposium sponsored by GIC ------- p.43
Jun Endo
3) Report on IYOG 2022 CLOSING CONFERENCE ------- p.46
Tomokatsu Hayakawa
4) Report on the 147th New Glass Forum young member conference as a Special lecture in IYOG 2022 International Year of Glass ------- p.50
Kazuaki Konishi
---

Relative Organization
Report on the 2023 New Year Gathering of the Glass Industry Conference ------- p.52
New Glass Forum
---

History of Research Activities
Looking back on my research activities for 50years (part 1) ------- p.57
Yoshinari Miura
---

Column
Let's imagine the future of human beings in terms of glass manufacturing in the spac ------- p.60
Mikio Nagano