---
journal "NEW GLASS"


"NEW GLASS" is published quarterly, and written in Japanese.

---
Current Issue
---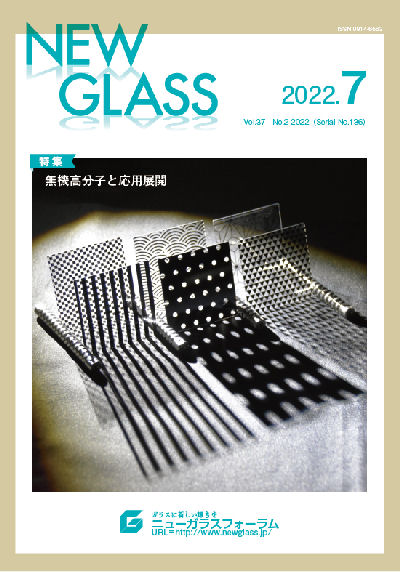 NEW GLASS

Vol.37 No.2 2022
(Serial No.136)
---

Foreword
Message upon Assuming NGF President ------- p.1
Shigeki Mori
---

Feature Articles: Inorganic polymers and application development
1) Inorganic polymers: a concept providing an overview covering from polymer materials to ceramic materials ------- p.3
Yoshiyuki Sugahara
2) History of Silane Coupling Agent ------- p.7
Masafumi Unno etc.
3) Self-healing Organic-Inorganic Hybrids Based on Silsesquioxane Nanoparticles ------- p.11
Yusuke Sasaki etc.
4) Preparation of Organic-Inorganic Hybrid Silica Separation Membranes for Superior Performance ------- p.15
Joji Ohshita etc.
5) Development of hydrogen-bonded inorganic frameworks(HIFs) consisting of a cubic octamer of orthosilicic acid(Q8H8) ------- p.19
Masayasu Igarashi etc.
6) Silicones for optical materials ------- p.27
Maki Itoh
---

New Glass Research Topics
Silicon quantum dot LED produced from rice husk ------- p.30
Ken-ichi Saitow
---

Topics of Meeting on Glass
Report on 'Annual Meeting 2022 of the Ceramic Society of Japan' ------- p.34
Masataka Takagi
---

Introduction of New Glass Products & Production Technology
Technology development of partial light shielding glass ------- p.37
Yoshitake Tanno
---

Introduction of New Book
Silicate Glasses and Melts Second Edition ------- p.40
Hirokazu Masai
---

Relative Organization
The 12th General Meeting 2022 Report ------- p.42
New Glass Forum
---

History of Research Activities
------- p.44
Akio Makishima
---

Column
A small grapevine in my little front yard ------- p.48
Yoshihiro Matsuno