---
journal "NEW GLASS"


"NEW GLASS" is published quarterly, and written in Japanese.

---
Current Issue
---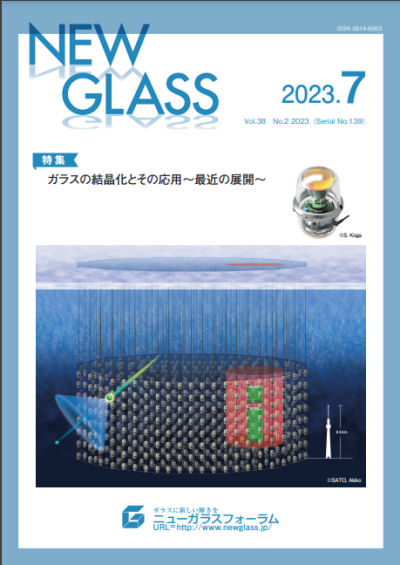 NEW GLASS

Vol.38 No.2 2023
(Serial No.139)
---

Foreword
New Glass: Always advanced materials from ancient times ------- p.1
Masayuki Arioka
---

Feature ArticlesĄ§ Crystallization of the glass and development of applied these days
1) Synthesis of active materials for sodium-ion batteries by glass-ceramics technology ------- p.3
Tsuyoshi Honma
2) Chemical strengthening and functionality of transparent lithium-mica glass ceramics by ion-exchange ------- p.7
Seiichi Taruta
3) Glass-ceramics for radiation measurements ------- p.11
Naoki Kawano
4) Concentration-quenching-free green and ultraviolet emissions in sol?gel-derived silica?REPO4 transparent glass-ceramics ------- p.15
Koichi Kajihara
5) Fabrication of nonlinear optical glass-ceramic fiber and its optical property: Propagation loss and optical modulation ------- p.20
Yoshihiro Takahashi etc.
---

New Glass Research Topics
Synthesis of silicon oxynitride glasses by nitridation ------- p.24
Hiroyo Segawa
---

New Glass Graduate School Lecture
Relation between compositions and properties of glasses; How compositions of commercialized glasses were fixed. ------- p.29
Yukihito Nagashima etc.
---

Intoroduce Research Institute
1) Stay at university of Zurich ------- p.35
Yuta Shuseki
2) Staying at Sorbonne Universite ------- p.38
Masaaki Nagao
3) Staying at Aalborg University ------- p.41
Shunta Sasaki
---

Topics of Meeting on Glass
Report on the Annual Meeting 2023 of the Ceramic Society of Japan ------- p.44
Ryohei Oka
---

History of Research Activities
Looking back on my research activities for 50 years (part 2) ------- p.48
Yoshinari Miura
---

Column
Asparagus in my little back yard ------- p.53
Yoshihiro Matsuno